HOME

NEW!! Machina Dynamica's Brand New Product
Frog Jump in Water Sound
Room Acoustics Tweak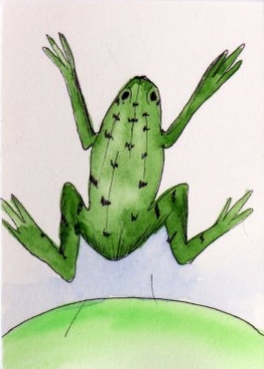 Machina Dynamica's latest product, Frog Jump in Water Sound Room Acoustics Tweak, reduces distortion, reveals more ambient information, increases palpability and air and improves overall realism. The Frog Jump in Water Sound Room Acoustics Tweak entails the placement of 4 small plastic containers filled with ordinary water in strategic locations. Price includes four 12x8x6 plastic containers + instructions for use.



"I placed the four containers as instructed. On the first Elvis song I heard an underlying harmony throughout the song whereas I had always thought that they had come in and out of the song. On the second Elvis song he appeared to be closer to my listening position. The next song I listened to was a piano solo on which I felt the higher notes had more clarity and life to them. The following song had what I thought was a percussion instrument but did not know if it was wood or metal being struck until now. Now I know it's a Glockenspiel! Blossom Dearie sounds richer, all her accompanying instruments are also crisper. (Clearer with seemingly a more upbeat tempo or pace.) The next song is a bluegrass type of song, with a collection of string instruments, banjo, violin, no, now TWO banjos, cello, guitar, somebody slapping a tambourine, certainly more going on than I heard before. Hidden instruments revealed. Johnny Cash is next and the Teleportation Tweak with the Intelligent Chip really exposed this song to me. There is a better defined coarseness to Cash's voice and I now know there is a third string instrument that I had thought was a banjo or something but is actually a piano. Buddy Guy on guitar, an unknown percussionist, with Miles Davis singing Good Morning Little Schoolgirl was the next song and on this song the guitar seemed to be in the room with me more than in the past. This effect was also present in the Cash song." - May 2010

"First of all, the Bowls of Water gave a very nice feel to the room. When they were there I was tappin and smilin'. Without them (I took them all the way out of the room, back into the kitchen) it was OK, nothing wrong. Nevertheless. I brought the Bowls back, a little forward this time, and Bingo! - not only was the Smilin' and Tappin' back but the sound just Filled the Space, Very Cool! The Bowls add a Lot to the ambience of the room, very pleasant, and some Flowers wouldn't hurt a bit. Try it!" - May 2010

Frog Jump in Water Sound Room Acoustics Tweak $39 + $5 shipping via USPS Priority Mail. Includes instructions.